Envoy® Exhibit System: Designed for Style and Purpose
The Future of Exhibiting is Here
Envoy is setting the standard for elegance in exhibiting. Its curved corners provide a soft, clean look while its sleek profile allows graphics to stand out.
Deep Frame for Functionality
Envoy's lightweight aluminum frame is 4-inches deep to provide a feeling of mass, support a variety of accessories and hide unsightly wires.
Watch the video! Click Play!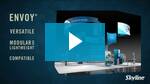 Envoy® Wins Buyers Choice Award!
Skyline's new Envoy Exhibit System won the 2010 Buyers Choice Award, which recognizes the best new products at EXHIBITOR, the biggest event in the trade show industry.